PROVOCATIVE "DON'T BE A TOOL" CAMPAIGN LAUNCHED TO IMPROVE WORKSITE BEHAVIOR
BC Construction industry and Rethink join forces to combat bullying, harassment and hazing.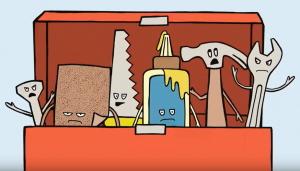 Victoria, B.C. (April 2, 2019) – In an effort to address bullying, hazing, and harassment on B.C. construction worksites, the BC Construction Association (BCCA) and its Builders Code partners today celebrated the start of BC Construction Month with the launch of a humourous province-wide campaign that tells worksite offenders, "Don't be a tool."
Created by the award-winning communications agency Rethink, one of Canada's top creative agencies, the campaign uses animated construction tools in cartoon versions of workplace scenarios that compromise safety and productivity on worksites. The scenarios shown in the "Don't Be a Tool" campaign are based on real-life hazing, harassment, and bullying situations described by tradespeople across B.C. and are aimed at changing the conversation in an industry that is 95% male.
"There's no question that the 180,000 tradespeople in BC's construction workforce will recognize the real-life situations that informed this campaign," said Chris Atchison, President, BCCA. "Our industry is keen to be more diverse across all demographics including age and gender, and while most employees are well aware of the behaviour that's expected of them by their employers, you could say we're working to remove all doubt about what's acceptable on a worksite."
The #Don'tBeATool campaign, which consists of sharable videos and social media images, are part of the comprehensive Builders Code initiative that seeks to set a baseline code of conduct for BC construction worksites. The Builders Code provides employers with a wide range of resources, including downloadable policies and posters, online and onsite training for personnel, HR/dispute resolution advisors and more. Just as the #metoo and the Time's Up movements have spread exponentially to bring much needed attention to the harassment and discrimination of women in the workplace, it's hoped the #Don'tBeATool campaign can help improve the worksite culture in B.C.' s construction industry.
"We wanted a simple, engaging campaign that would help us demonstrate the need for change in a non-threatening way," says Lisa Stevens, BCCA COO and architect of the Builders Code. "Our goal is to spark some productive conversations and ultimately lead employers to adopt the Builders Code."
"Right now, there are so many campaigns competing for our attention around the themes of workplace conduct, sexual harassment and gender equality that we needed to create something that would break through all the clutter and get noticed," added Morgan Tierney, Managing Partner, Rethink. "Using our cartoon character "tools" allows us to look at a serious problem through an exaggerated, lighthearted lens, making the whole issue more approachable."
To view Don't Be a Tool videos and posters, visit https://www.builderscode.ca/ or follow us on Twitter (https://twitter.com/bcbuilderscode) or FaceBook (https://www.facebook.com/bcbuilderscode). For more information about the Builders Code, visit www.builderscode.ca
BC Construction Month (April 2019) celebrates the many contributions that B.C.'s construction industry makes across our province, in every community, every day. More than 240,000 people rely directly on B.C's Construction industry for a paycheque. That's 10 percent of the workforce, and more than any other sector, and bigger than forestry, mining, agriculture and fishing combined.
BC Construction Month is supported by the BC Construction Association, LNG Canada, BCIT, WorkSafe BC, Coastal GasLink, and the BCCA Employee Benefits Trust, and other sponsors. For more information, visit http://www.constructionmonth.ca
About THE BUILDERS CODE
The Builders Code is an initiative of the Construction Workforce Equity Project. Co-funded by the Ministry of Advanced Education, Skills and Training, with financial contributions from the BC Construction Association, WorkSafe BC, the Industry Training Authority, LNG Canada, the BCCA Employee Benefits Trust, and the BC Construction Safety Alliance, the Builders Code is also supported by the BC's four Regional Construction Associations and the Minerva Foundation of BC.
For more information about the Builders Code, please visit: http://builderscode.ca
– 30 –

CONTACTS:
BC Construction Association
Greg Descantes
604-646-3564
gdescantes@pacegroup.com