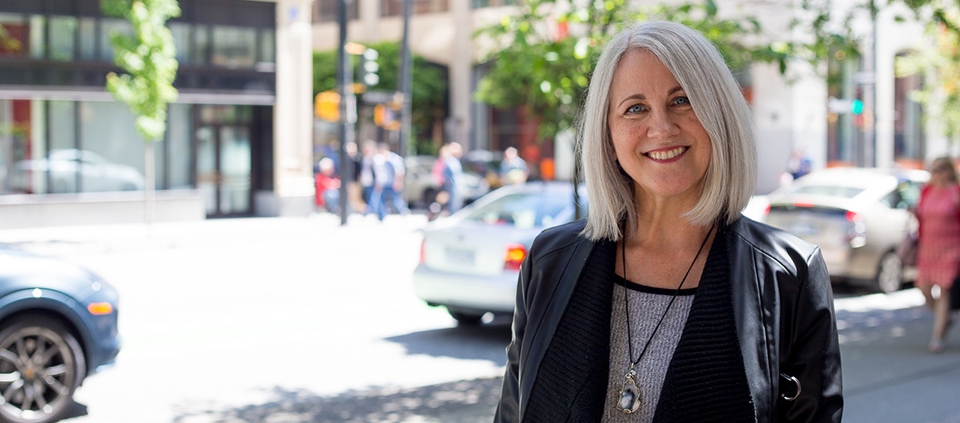 Southern Interior Construction Employers Tackle Worksite Harassment with New HR Specialist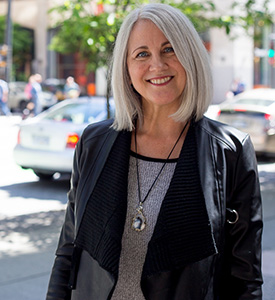 Kelowna, BC (April 29, 2019) – Construction employers in the Southern Interior region were introduced to the province's newest Builders Code Advisor today at a Contractor Breakfast in Kelowna as part of BC Construction Month. The Builders Code Advisor's role is to help address diversity and harassment issues on worksites by supporting employers who wish to improve retention rates but lack needed HR skills and resources.
Builders Code Advisor Diane Jolicoeur is a Kelowna-based certified professional coach and consultant in career transition and displacement. Her extensive experience and expertise in human resources includes employee relations, specialized recruitment, HR strategy and development, and workshop development and facilitation. She currently also consults for Okanagan College Women in Trades Training as a mentor and advisor. Today's breakfast was held at the College.
"As a partner in the Builders Code and a strong supporter of its goals to increase the retention of tradeswomen, and all apprentices, by eliminating hazing, harassment, and bullying on B.C. worksites, the Southern Interior Construction Association is very pleased to introduce Diane to our membership," said Jason Henderson, CEO, SICA. "Our employers in the Southern Interior recognize that by setting a standard code of conduct for construction worksites, the Builders Code will help them increase safety and productivity at their sites. Attracting and retaining employees, especially tradeswomen, is key issue throughout our region and industry so it's a definite benefit for our members to have access to a skilled HR professional that can help them develop and implement HR policies and address worksite issues before they escalate."
Across the province, more than 23,000 construction companies have 20 employees or less. Supported by the BC Construction Safety Alliance (BCCSA) and BC Construction Association Employee Benefit Trust (BCCAEBT), Builders Code Advisors serve as expert coaches for BC construction employers as they strive to navigate escalating HR situations on the job site that arise from a lack of clearly defined equity or inclusion policies. The goal is to assist employers in resolving situations fairly, quickly, and productively for all parties, and in the process improve the employer's ability to confidently communicate expectations and manage such situations independently in future.
"Construction employers throughout B.C. want to improve the culture on their sites and effectively manage harassment and bullying situations," said Chris Atchison, President, BCCA. "Providing experienced HR advisors like Diane to work with them one on one is a powerful opportunity. More than 50 employers have already signed on to the Builders Code in its first weeks."
"I look forward to supporting construction employers in the southern interior region to modernize the industry culture," said Joliecoeur. "My philosophy is to empower people to come to their own decisions, and my approach is to provide expertise and advice without judgement."
The Builders Code Advisors are part of a comprehensive suite of tools for employers available at www.builderscode.ca that includes: downloadable policies and posters, training, employer scorecards and awards, and a worksite "Don't be a Tool" awareness campaign.
The Builders Code recognizes that every tradesperson on a worksite is affected by stress and distraction caused by bullying, hazing and harassment. It's expected that by demonstrating to employers the benefits of an improving worksite culture and providing them with the tools they need to affect change, retention rates will improve and help to erase B.C.'s projected skilled labour shortage of 7,900 workers by 2028.
"When you consider the significant role stress plays in worksite accidents, it's clear that hazing, harassment and bullying are important safety issues," said Michael McKenna, Executive Director, BCCSA. "As an organization that provides straightforward and practical assistance to help contractors meet their health and safety needs and requirements, the Builders Code Advisors is an essential component of the services and training we offer construction employers."
"Our mission is to be an innovative provider of employee benefits to our clients, so that they can recruit, protect and retain their talented people," added Arthur Chung, CEO, BCCAEBT. "We're incredibly excited that there will be much needed support to empower construction industry employers to build a safe and inclusive work culture. Having a Builders Code Advisors in place marks the culmination of the extensive dedication and hard work put in by the BCCA and all of the partners on the Builders Code project."
The Builders Code is an initiative of the Construction Workforce Equity Project, funded by the BC Ministry of Advanced Education, Skills and Training through the Sector Labour Market Partnership Program. Builders Code partners include: BCCA, BCCSA, BCCA EBT, Industry Training Association (ITA), WorkSafeBC, Minerva Foundation of B.C., LNG Canada, and four Regional Construction Associations (NRCA, SICA, VICA, VRCA). Throughout 2019, additional Builders Code resources and services will be rolled out including additional Builders Code Advisors in every region of the province.
About British Columbia Construction Association
The British Columbia Construction Association (BCCA) works with four Regional Construction Associations (NRCA, SICA, VICA and VRCA) to serve more than 10,000 employers in the provinces industrial, commercial, institutional (ICI) construction industry. BCCA's programs and services include employee benefits (BCCA Employee Benefits), technology tools for bid and project management (BidCentral), employer services through the Builders Code, which strives to improve workplace culture, and employment programs (Skilled Trades Employment Program (STEP), Integrating Newcomers, LNG Canada Trades Training Fund, LNG Canada Connect). BCCA advocates on behalf of all employers to ensure British Columbia's construction sector remains productive and resilient.
For more information about SICA, visit: www.sicabc.ca
For more information about BCCA, visit: www.bccassn.com
For more information about the Builders Code, visit: www.builderscode.ca
CONTACTS:
BC Construction Association
Greg Descantes
604-646-3564
greg@pacegroup.com
https://www.builderscode.ca/wp-content/uploads/2019/04/Advisors_Announcement_DianeJ.jpg
640
960
Stephen Richter
http://www.builderscode.ca/wp-content/uploads/2023/05/Secondary_Horiz_Logo_4c_171C-RT-WebsiteNav-01-1-300x64.png
Stephen Richter
2019-04-29 17:30:28
2022-03-09 17:16:08
Southern Interior Construction Employers Tackle Worksite Harassment with New HR Specialist